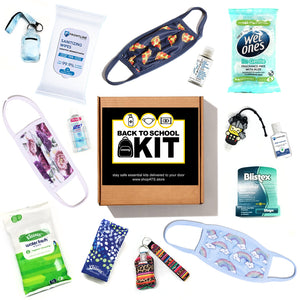 Stay safe essential kits to help you prepare your kids for school.
This $25 kit includes:
2 kids fun printed reusable masks

4 Kids 3ply disposable masks

1 Purell travel size hand sanitizer
1 Kleenex travel pack
1 Cool sanitizer holder
1 Pack of wet wipes by WetOnes
*If your would like a specific mask print, please make your request in the notes during check out. Though we cannot guarantee your request will be fulfilled due to inventory availability, we will do our best.