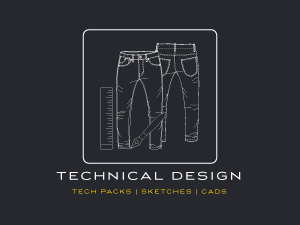 Are you looking to translate your sample or design into technical specifications for a CMT production run? We can help you with that -- MVFA offers clients a full range of tech pack options including specification sheets that cover the following:

Domestic Pack
Bill of Materials
Trims Sheet
Sewing Tech Packs
Grading Chart
A Cutters Must
International Tech Pack for Off-Shore Development
If you are looking to develop an international tech pack for off-shore development outside of Canada, we follow up our work by offering the full approval process to follow your import Garments through every stage of Development and Procurement.
Pricing is flexible depending on the complexity of the Garment and Tech Pack required, as well as the number of tech packs in the package you need. Please contact us for an accurate quotation based on your project requirements at info@mvfa.ca.