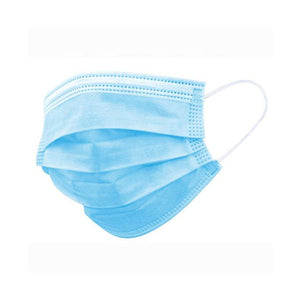 This three layer Single-use Medical Face Mask is a standard for Doctors and health practitioners alike.

A medical or surgical mask is a disposable medical device. It protects against infectious agents transmitted by "droplets." However, it does not protect against "airborne" infectious agents. It will therefore not prevent the wearer from being potentially contaminated by a virus.

A surgical mask does two things:

Prevents droplets of saliva or secretions from the upper respiratory tract when the wearer exhales. If worn by the caregiver, the surgical mask protects the patient and his or her environment (air, surfaces, equipment, surgical site). If worn by a contagious patient, it prevents the patient from contaminating his or her surroundings and environment.

Protects the wearer from infection transmitted by "droplets" or from the risk of splash of biological fluids. In the latter case, the surgical mask must have a waterproof layer. It can also be equipped with a visor to protect the eyes.
"Surgical" masks can be used in different fields:

Surgery
Dentistry
Other medical procedures
In the case of isolation"